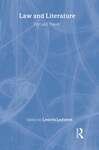 Title
Law and Literature: Text and Theory
Description
First published in 1996. The first anthology of its kind in this dynamic new field of study, this volume offers students the best of both worlds-theory and literature. Organized around specific themes to facilitate use of the text in a variety of courses, the material is highly accessible to undergraduates and is suitable as well for graduate students and law students. The anthology includes important articles by key figures in the law and literature debate, and presents seven thematically arranged sections that:

Survey the various theoretical perspectives that inform the relationship of law and literature
Examine the interplay of ethics, law, and justice * Highlight the great scope and variety of the law's contributions to the creation of a world view * Illustrate various legal approaches to punishment * Detail and analyze the law's inherent capacity for the oppression of individuals and groups * Demonstrate that law is grounded in language and storytelling * Show that despite its solemnity, the law has a comic side
Each section includes excerpts from poetry, drama, fiction, and nonfiction. The excerpts include writings addressing the law's impact on the "outsider" (women, Native Americans, Hispanics, African Americans, and homosexuals), as well as writings by lawyers, judges, and law professors, giving the reader an "insider's" view of the legal system. The selections range from Plato to John Barth and Wallace Stevens. At this time of increased interest in the quality of legal writing, this course material illustrates the importance of language, word choice, metaphor, and narrative. It demonstrates the practical application of literary effects, techniques, and devices, and provides valuable insights into law as a vital component of the social fabric.
Keywords
law, literature, ethics, justice
Recommended Citation
Ledwon, Lenora P., "Law and Literature: Text and Theory" (1996). Faculty Books. 3.
https://scholarship.stu.edu/faculty_books/3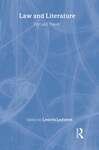 COinS