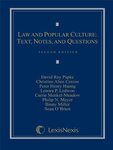 Title
Law and Popular Culture: Text, Notes, and Questions
Description
This new Second Edition of Law and Popular Culture: Text, Notes, and Questions maintains the most appreciated features of the First Edition published in 2007.
Each of the chapters begins with a list of readily available Hollywood films that are relevant to the particular chapter.
After an introduction to the study of popular culture and an outline of the goals of the book, the chapters themselves fall into two categories. Half concern the pop culture portrayals of legal institutions and actors ― law schools, the legal profession, clients, witnesses, judges, and juries. The second half concern various areas of law ― Constitutional Law, Criminal Law, Torts, Business Law, Family Law, and International Law.
Well over one hundred excerpts from articles by the leading law and popular culture scholars still are included. A majority of these excerpts appeared in the First Edition, but many appear for the first time in this Second Edition.
Film remains the most prominent medium.
The Second Edition also adds these exciting new features:
An original chapter on "Punishment" explores the surprisingly large body of pop cultural works related to imprisonment and capital punishment.
Law-related imagery and portrayals in such other media as television, inexpensive fiction, children's literature, and the comics receive much greater attention in the text's notes and comments sections than was the case in the First Edition.
Emphasis on the reasons, forms, and ramifications of law related popular culture, moving away to some extent from attempts either to point out the legal errors in popular culture or to teach the law using popular culture.
Publication Date
5-2-2012
Keywords
law and pop culture, law and society, legal profession, torts, business law, judges, constitutional law, criminal law, international law, family law
Disciplines
Commercial Law | Constitutional Law | Criminal Law | International Law | Judges | Law | Law and Society | Legal Profession | Torts
Recommended Citation
Papke, David; Corcos, Christine; Huang, Peter; Ledwon, Lenora P.; and Menkel-Meadow, Carrie, "Law and Popular Culture: Text, Notes, and Questions" (2012). Faculty Books. 13.
https://scholarship.stu.edu/faculty_books/13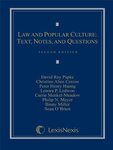 COinS